Islands of Siankaba | Livingstone Safari Lodges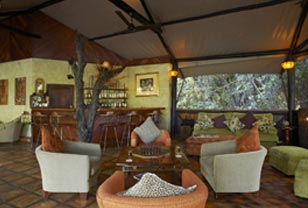 Known as the Jewel of the Zambezi and perfectly placed just upstream between the Victoria Falls and the Chobe National Park, the Islands of Siankaba emphasizes exclusivity, luxury and high standards. The lodge is situated on two densely forested sand islands in the Zambezi River.
The Islands of Siankaba have been developed as a luxury five star lodge accommodating just fourteen guests. The two islands are linked by a wooden and rope suspension bridge, leading to an overhead walkway in the tree canopy connecting the elevated chalets to Dining room, Bar and lounge.
There are seven comfortable, private and elegant chalets situated on the small island, while the larger island houses the dining room lounge and swimming pool. All chalets are equipped with an en-suite bathroom, ball and claw bath and separate shower, mini bar, large mosquito nets, ceiling fan and private safe. They are raised above ground level into the tree canopy and their balconies extend out over the river. This unique position means that you can see everything the area has to offer while relaxing in the comfort of your chalet. The seventh chalet has been designed with honeymooners in mind, and boasts a private garden, and private eating area.
The staff offers an informal, friendly and highly personalised service. Afternoon tea is served daily on the main lodge decking, allowing one to enjoy magnificent views of the mighty Zambezi River.
The shady forest canopy that surrounds the swimming pool is an ideal place to relax and enjoy an afternoon drink. The dining room and lounge offers a unique experience of comfort and relaxation in a truly African setting.
Among the activities are romantic boat cruises, cultural visits to the nearby village, fishing excursions, and nature walks. Additionally trips to Victoria Falls and Livingstone, helicopter and micro-light flights, and a number of adventure activities can be arranged for guests.
The Islands of Siankaba are so comfortable that you might decide to spend your days lazing around the pool or in the comfort of your chalet, or indulge in a massage, or facial.
Email us for a quotation, or check availability for your dates.
Zimbabwe Side
Zambian Side